I
've posted a few times about my fitness journey, and I think I'm always a little scared to say too much on the topic because I am no expert whatsoever. When I think of fitness experts, I think of people who are extremely ripped, live in cute workout clothes all the time, and eat perfectly clean without "cheating".
Annnnd then there's me. I eat chickfila, bagels, chips, queso, pizza, and ice cream (I'm not bragging about that...just being honest). I have extra fluff, and a six pack is definitely non existent. I have MAYBE one or two workout outfits that actually go together.
As a side note, I'm always trying to get better with these things. Especially with food. I know that it's important that I be disciplined with my eating, and I'm working on that. I've even had a salad every day for lunch the last two weeks (anyone that knows me and my "love" for salad, knows that's huge).
When I first started working out I hated it. I hated feeling out of breath after 1 minute of burpees, or not being able to do 10 push-ups. I hated taking the time to go and kill myself (that's how it felt). I hated trying to motivate myself to get it done. It took me quite a while to get over the "I hate working out" phase. Oh, and some days I still feel this way. I'm definitely not one of those "I just love doing the workout". I like to workout...because I love how I feel when I'm done, or when I beat a personal record. So yes, now I like working out. Here are some things I did that helped me get from hating it to loving it.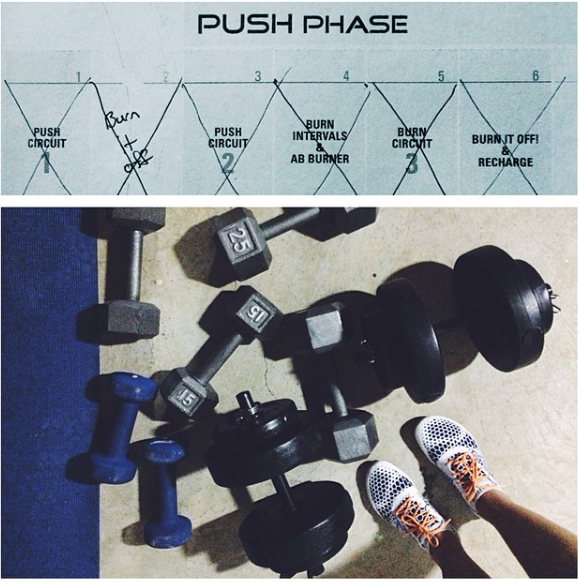 Some days I COULD NOT talk myself into working out. Or I would cheat during my workout by taking more rests, not going as deep, quitting early, etc.
When you work out with someone you HAVE to do it, because you've made that commitment and they're counting on you to show up and work out. Also, I'm pretty competitive...so I'm definitely going to try to get all of those weighted squat jumps in if my workout buddy does. For years my workout partner was my sister. That means double the competition, double the work, double the calorie burn.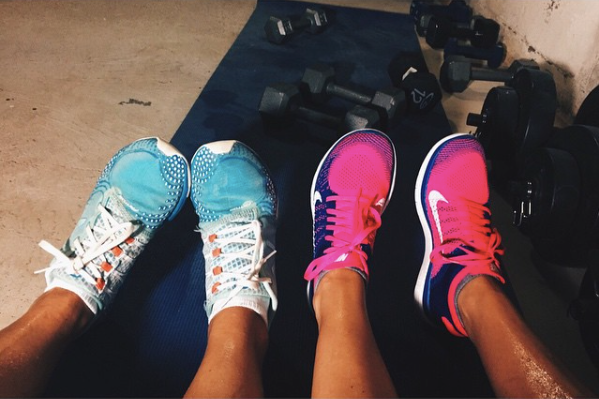 This was huge for me...and it took me forever to figure it out. I have found that for myself, to workout at night is the worst thing ever. I'm tired, and so I get frustrated SO easily.
Side story: one night I was working out after a horribly hard and crazy week, and I was doing the 10,000 push-ups during insanity and couldn't get myself back up. I was so upset that I started crying. Yes, ridiculous...don't let Hailey workout at night.
Anyway, morning is best for me. Lindsey and I worked out at 6:30 almost every morning. I hated waking up to work out, but I couldn't go back to sleep because I knew she was waiting on me (back to the importance of a workout partner). But when that workout was done I felt like I could take on anything. On the mornings that we did a 6:30 workout, I was wayyy more productive than other mornings.
Another important part to getting into the "groove" of working out for me was picking a program. Because of our schedules, Lindsey and I did home workouts. They were most efficient, time and money saving for us. We did several Beach Body programs including Insanity, T25, 21 Day Fix Extreme, and ChaLean Extreme. We also had days when we would run.
For ChaLean Extreme and 21 DFX, we followed the programs exactly. We even follows the 21DFX meal plan. I found those to be most beneficial because it kept us on track and we could cross off each day knowing we were that much closer to our goal.
As a side note, I also saw the most changes with these. I lost 7 pounds and several inches with ChaLean Extreme, and saw major definition and meal plan habits from the 21 DFX.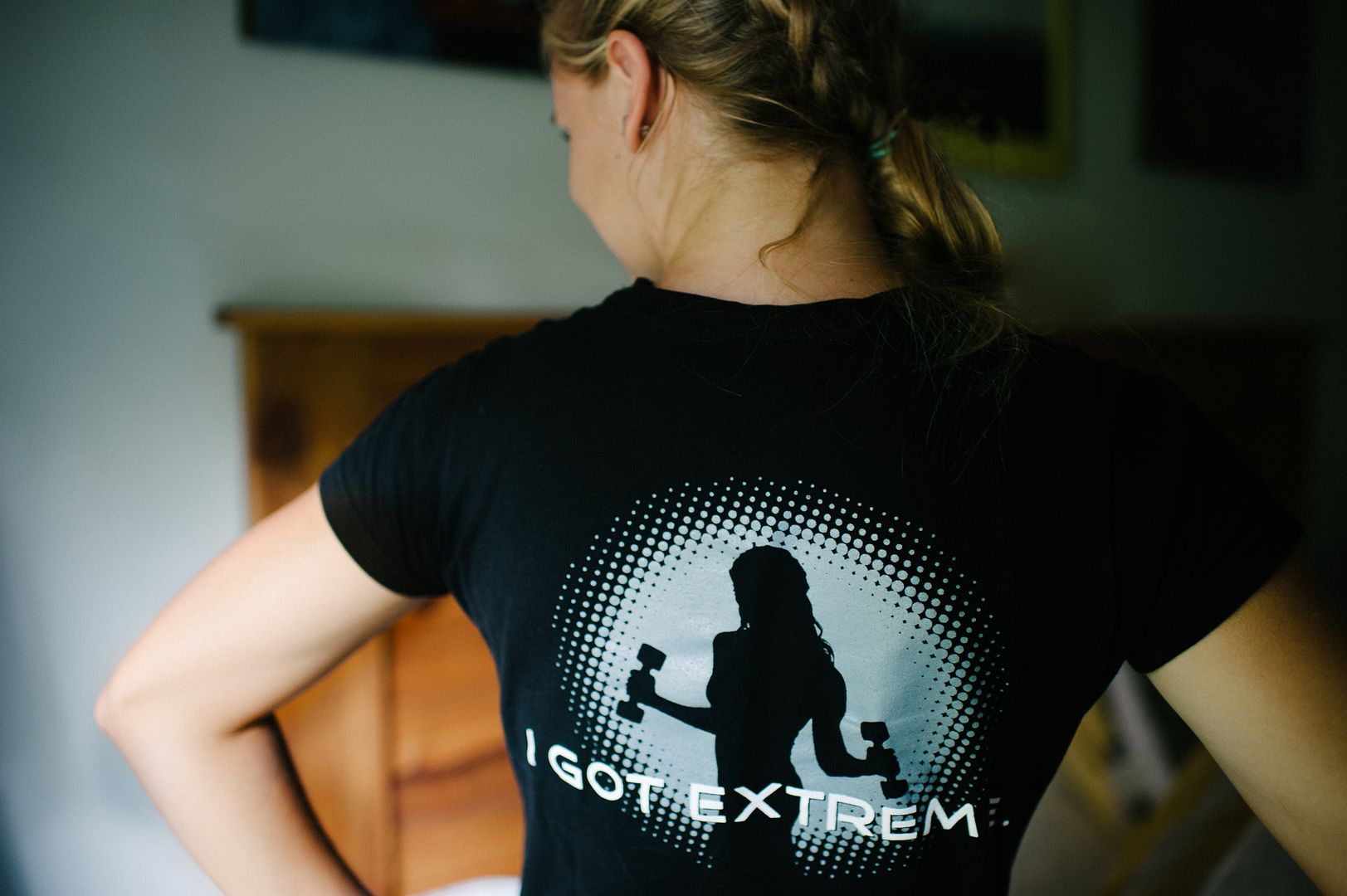 (An added bonus is the free t-shirt they send you when you complete a program! This one is from ChaLean Extreme)
So there are some tips for what helped me! My workout partner (aka sister) has now deserted me and left for college, so I am experimenting with new plans. One that involves going to a gym...which I can hardly believe (I've been pretty anti-gym in the past). I'm two weeks into it, so we'll see if I'm in a good routine by the end of the month.
Hey, if you have some questions on this, let me know! What have you guys found to be helpful in keeping up with consistent fitness?